Indulging in America's Donut Delights: Best Donuts Ranked by State
Donuts are one of the most popular desserts in the United States. You can find them at basically any grocery store, at your corner Dunkin', or at a local donut shop that serves fresh-made donuts on the weekends and early mornings. It's no wonder how popular donuts are — since they're fluffy and aesthetically appealing little desserts. With an endless amount of donut styles that can be customized in beautiful ways, donuts make for both a satisfying snack and a gorgeous photo for Instagram.
Here at The Waycroft, we encourage a healthy lifestyle for our residents through the use of our state-of-the-art features and amenities like the fitness center, participation in local bike-share programs, and spacious, functional kitchens for cooking up nutritious meals at home. But we also know the importance of treating ourselves every once in a while. We'd be lying if we said we didn't love to enjoy the delicious gourmet donuts Ballston has to offer, such as District Doughnut just around the corner at Ballston Quarter. 
Since this is one of our favorite local treats, we knew that there had to be interesting regional donut preferences to explore. We decided to analyze public Google search query data from the last 12 months in order to determine the best donut flavors in every state across the U.S. From cronuts to Boston cream, the results are sure to make you hungry!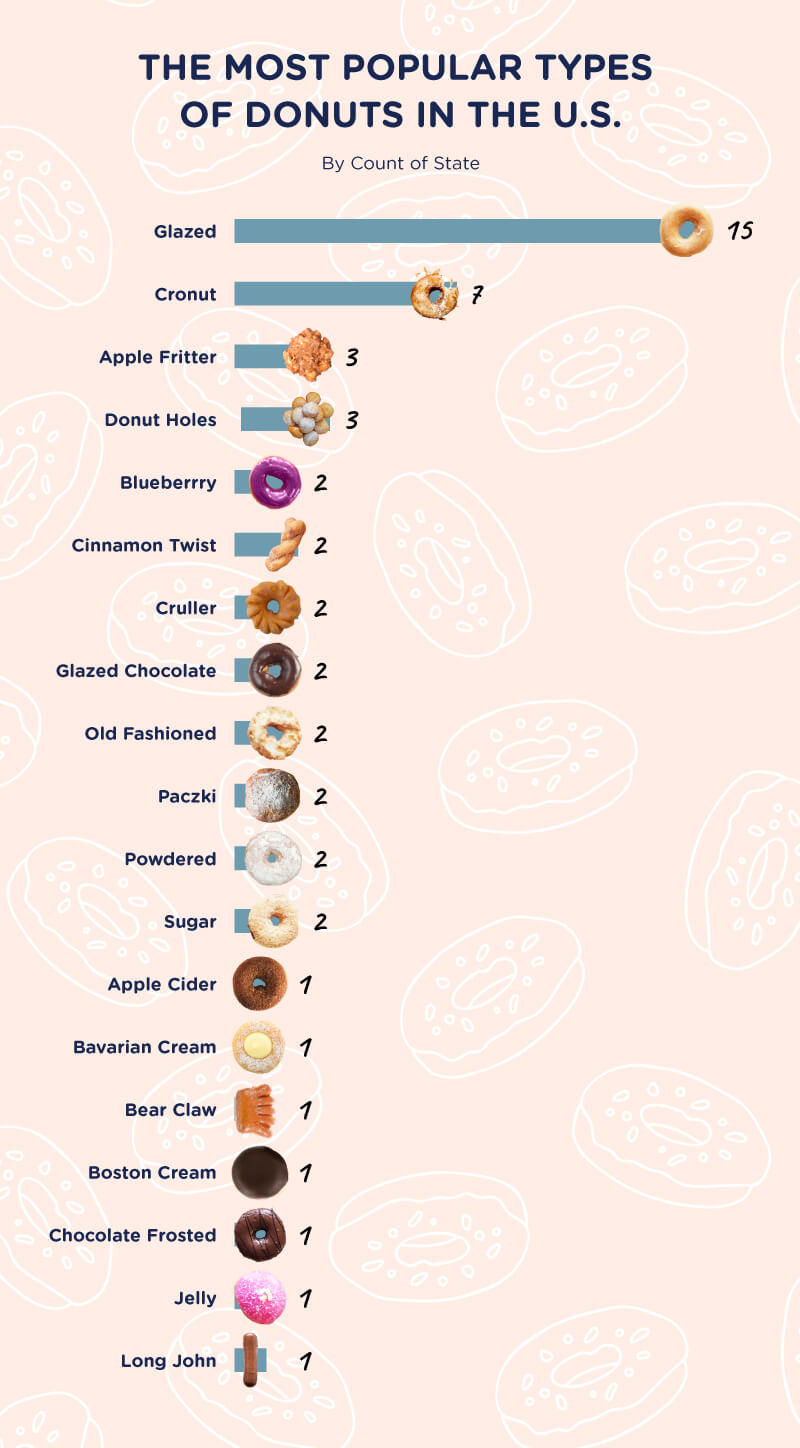 The Most Popular Donuts in The U.S.
Have you ever wondered what is the best donut in every state in the U.S.? Here's the list:
Glazed Donuts
Cronut
Apple Fritters
Donut Holes
Blueberry Donut
Cinnamon Twist
Cruller
Glazed Chocolate Donut
Old Fashioned Donut
Paczki
Powdered Donut
Sugar Donut
Apple Cider Donut
Bavarian Cream Donut
Bear Claw
Boston Cream Donut
Chocolate Frosted Donut
Jelly Donut
Long John
According to Google users, glazed donuts reign supreme as the most popular donut. This simple, classic donut style is sure to please a crowd, which is perhaps why it ranks at the top of the list of most popular donut styles in 15 U.S. states and is included in just about every collection of a dozen donuts you come across.
Interestingly, the second most popular donut type in the U.S. is the cronut. Donuts are hundreds of years old, but this croissant-donut combination was created in 2013 by New York City pastry chef Dominique Ansel of Dominique Ansel Bakery while working in France. When his creation was brought over to the States, the cronut craze took the country by storm! And seven years later, it remains one of the most sought-after donuts in America, taking the top spot in seven U.S. states, according to our data.
Some other popular flavors of donuts nationwide include apple fritters and donut holes. Many other popular donut styles were tied across the board for 5th and 6th place. But now, let's take a look at the most popular donuts as they differ by state.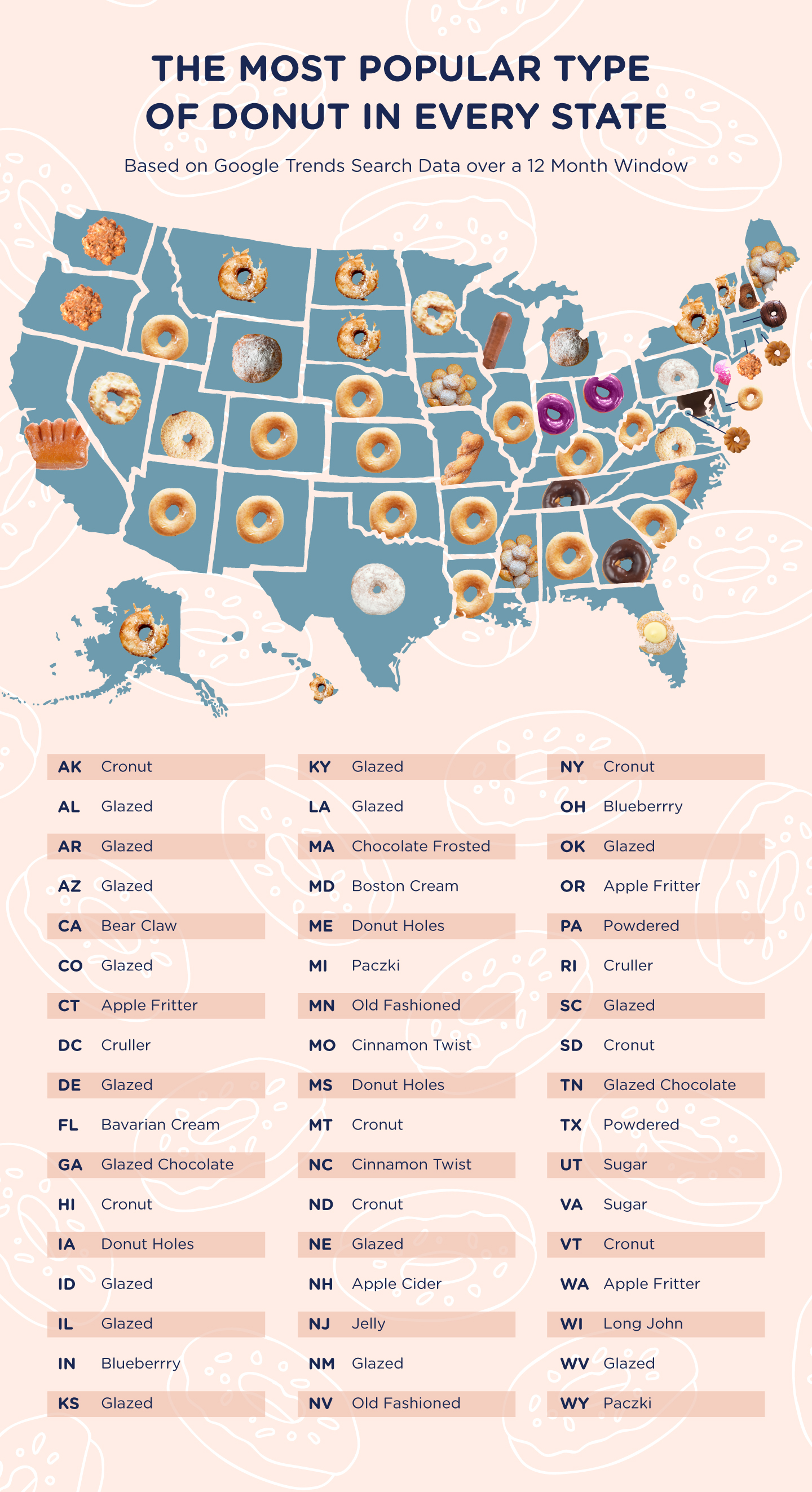 The Most Popular Donut in Every State
From this map, you can see that America loves a wide variety of delicious donut flavors! Some unique regional donut types include the Long John, the most popular donut in Wisconsin, and a well-loved Midwestern treat. Or the bear claw, a Danish donut style, which is the most popular donut style in California, possibly because of California pride for the bear on their flag! 
And of course, we have to shout out our area, for the most popular donut type in D.C. is the cruller (an excellent choice, may we add). There are also sugar donuts, which won out in Virginia. Don't make us pick between the two!
The Most Popular Donut Styles in Closing
Well, no matter the regional differences between donut flavors, sizes, and shapes, it's safe to say that Americans love them. Whether you live in rural Wyoming or you're looking to move to the Arlington area, learning about local desserts can be a great way to get to know an area. Looking to learn more about Ballston, the neighborhood we call home? Check out our neighborhood page. If you're already in the area and are looking for a new apartment, schedule a tour of The Waycroft.