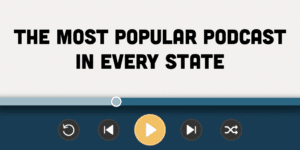 Once a relatively unknown subset of radio, podcasting has flourished in recent years and become a booming industry of its own. In fact, as of 2021, there are more than 1,750,000 podcasts comprising more than 43 million episodes!  
It's easy to see why podcasts have become so popular, too. There is a podcast of every color, including staple genres like true crime, comedy, news and politics, finance, sports, professional and personal development, and even fiction!
Additionally, it has never been more convenient to be entertained, learn something new, sharpen professional skills, stay abreast of current events, or b ush up on bar trivia while being productive at home. (We recommend Crafthouse Arlington and Rustico Ballston for some real brain busters.)
At The Waycroft, we know our residents lead fast-paced lives in a bustling world, and there's only so much time to Netflix and chill. That's why finding a favorite podcast can be the key to staying informed or entertained without wasting time. It's so easy to listen while working out in our upscale fitness facilities, cooking dogs on our rooftop grills, or enjoying the many things to do outdoors in Arlington.
In an effort to provide the best podcast recommendations, we decided to find out which podcasts were being searched the most in each state. To start, we collected Google search data in the U.S. over the past 12 months on the first 50 podcasts on Apple Podcasts' Top 100 chart. Then we crunched the numbers and uncovered the podcasts people searched for the most across the country. 
Read on to see what we found!
The Top Podcasts in the US by State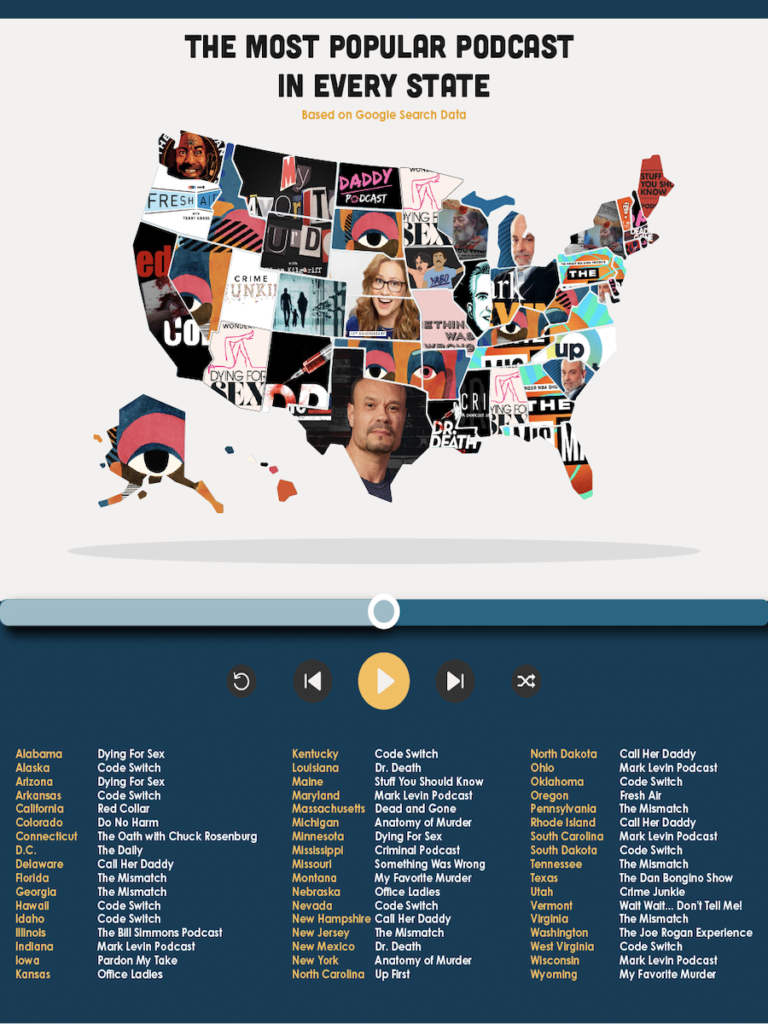 It is evident from the map above that Americans cater to a little bit of everything! While we found a myriad of genres from serious news roundups to gut-busting comedies on the map, we also saw true crime emerge as a prominent theme. The heavy hitters that have us closing our blinds at night include "Red Collar", "Anatomy of Murder", "My Favorite Murder", and "Dead and Gone".
Of course, we had to see which podcast was the most searched in our own backyard (which features pet-friendly amenities and is surrounded by Arlington's lush trails and parks)! Our data shows that "The Daily", a New York Times podcast delving into the one news story you can't miss each day, was the most popular podcast in D.C.
In a time of historical and "unprecedented" news, it's not hard to imagine why this podcast made its mark on listeners. Its 30- to 60-minute episodes are perfect for a stroll with your best furry friend to temper the stress of the news.
"The Mismatch" was crowned the winner in Virginia and in the Northeast region overall. This one is for basketball fans, offering on-court analysis, news, trends, and transactions of the NBA. We suspect it was one of the most popular podcasts in 2020 because of the cancellation of March Madness causing college fans to flock to professional basketball.
So, what are the most popular podcasts on a national scale? We're glad you asked.
The Most Popular Podcasts in the U.S. by State Count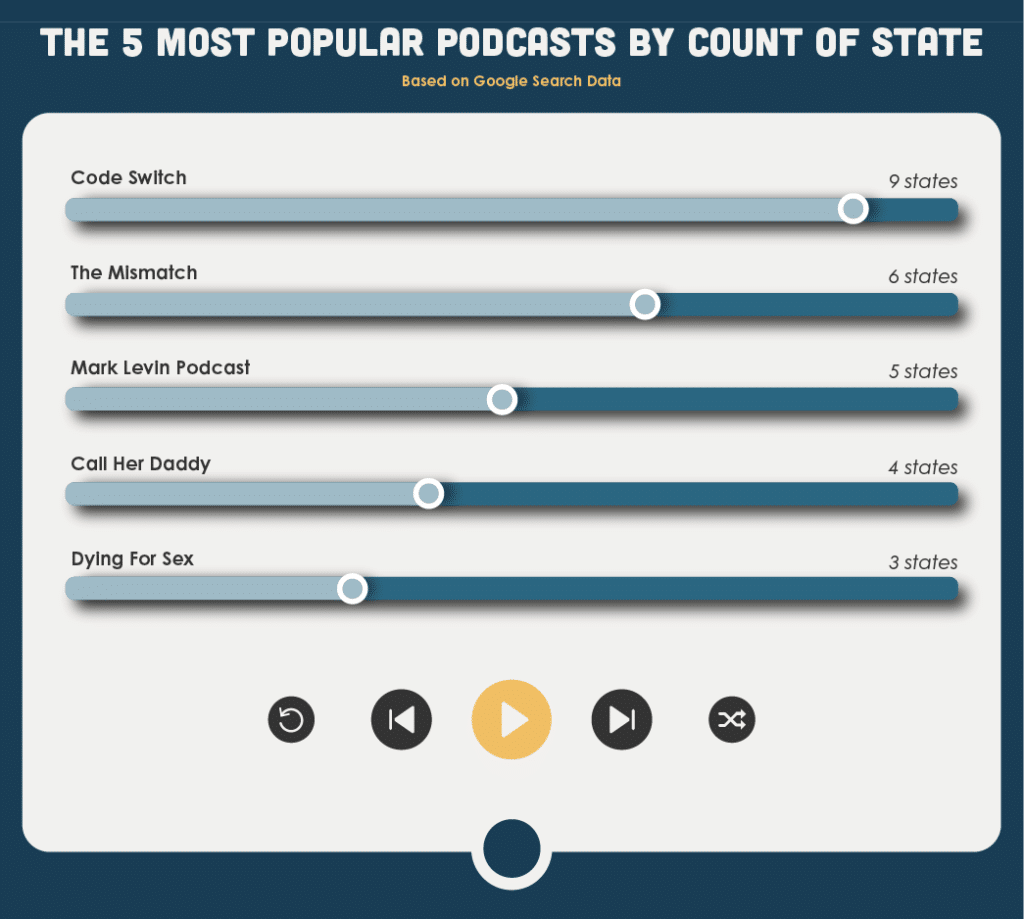 In first place was "Code Switch". Starting as a blog in 2013, it was turned into a podcast by NPR in 2016. It dissects race and culture issues across the country, such as how the Hawai'ian language nearly died, how young adult fiction is covering race and oppression, and whether it's true that dark-skinned people are more protected from the sun. Although it has been running for four years, it became one of NPR's top podcasts in the US in terms of rankings in the wake of events comprising the summer of 2020.

Virginia's favorite, "The Mismatch" earned second place on a national scale with six states backing it overall. After that, the "Mark Levin Podcast" was the most popular in five states, "Call Her Daddy" claimed four states, and "Dying for Sex" squeezed into the top five with three states awarding it the most search volume.
The Top Podcasts in America by Region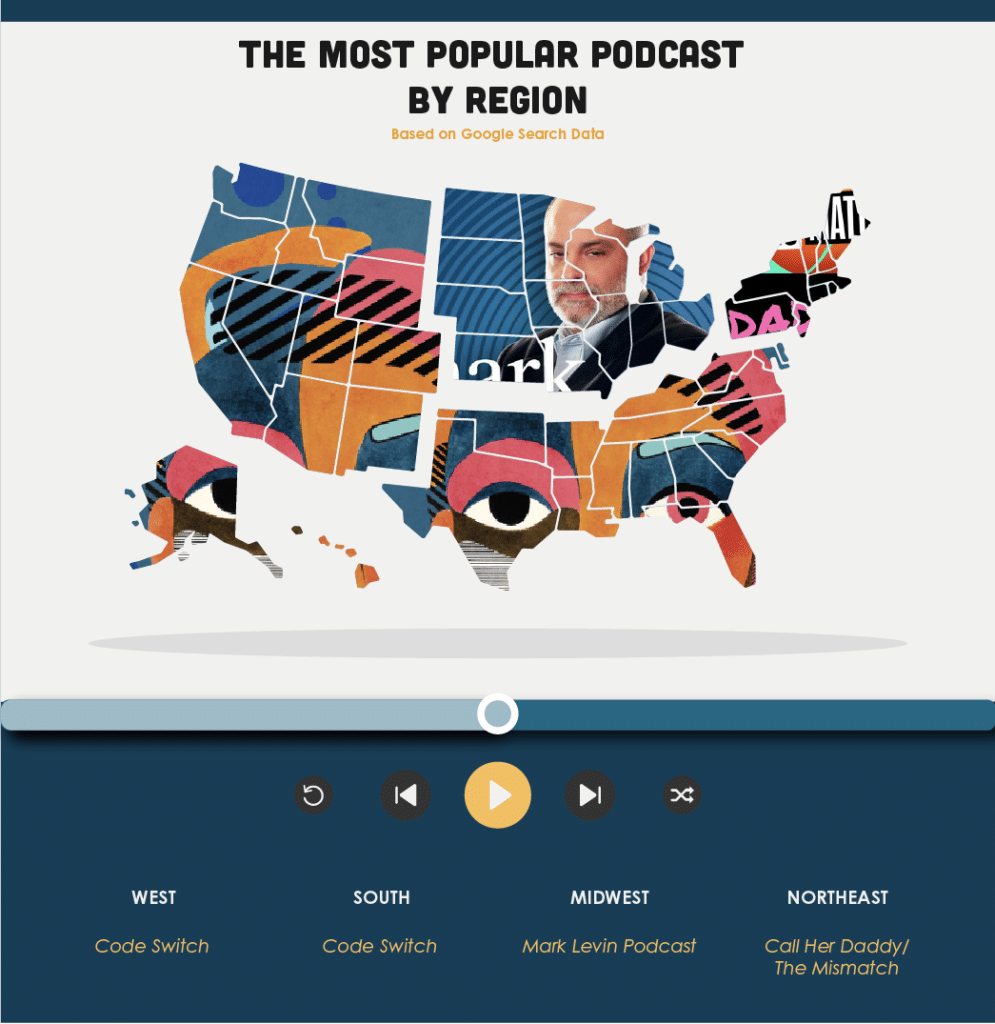 Tying with "The Mismatch" in the Northeast, listeners searched the most for "Call Her Daddy" This podcast initially followed the most intimate experiences of hosts Alexandra Cooper and Sofia Franklyn as they prowled the heterosexual dating scene. Drama exploded in 2020, however, between the hosts and the show's producer, Barstool Sports. Since then, it has returned as a shell of its former form with Cooper hosting alone.
While the dating advice encapsulated in "Call Her Daddy" can be entertaining and hilarious for some, we must warn potential listeners that it is always intended for mature audiences. In fact, the drama-plagued podcast has also sparked online debate over its handling of certain gender issues.
Code Switch", the most popular podcast in most states overall, was voted the best podcast in the South and the West.
Podcast Snapshot
If you're interested in checking out some of the top podcasts in America, see the descriptions below to find ones that match your personal interest. Happy listening!
Podcast Name: Anatomy of Murder
Host (s): Anna-Sigga Nicolazzi and Scott Weinberger
What You'll Hear: An in-depth analysis that takes you behind the scenes on homicide cases. Hear from investigators working the case, family members of the victims, and so much more.
Podcast Name: Call Her Daddy
Host (s): Alex Cooper
What You'll Hear: Topics orbiting around everything from female sexuality and breakups to celebrity interviews and more serious topics like trauma recovery and social anxiety.
Podcast Name: Code Switch
Host (s): Gene Demby and Shereen Marisol Meraji
What You'll Hear: Hosted by journalists of color, this podcast covers issues facing the black community, including police brutality, as well as ideas centering around political resistance, perceptions of race, and much more.
Podcast Name: Crime Junkie
Host (s): Ashley Flowers
What You'll Hear: Stories about solved and unsolved murders that will leave you on the edge of your seat. Hear from the victim's family members, investigators, and advice to help you be weird, be rude, and stay alive — the Crime Junkie motto.
Podcast Name: Criminal Podcast
Host (s): Phoebe Judge
What You'll Hear: Episodes that focus on true crime. Listen to insightful recaps of national headlines like the Tylenol murders. Newer episodes cover recent stories like the Taliban-freed prisoners who sought revenge on the women judges who convicted them.
Podcast Name: Dead and Gone
Host (s): Payne Lindsey and Jake Brennan
What You'll Hear: True crime stories that circulate in the Grateful Dead fandom, including murders, mysteries, and unexplained accidents.
Podcast Name: Do No Harm
Host (s): Mike Hixenbaugh
What You'll Hear: This podcast dissects the medical and legal systems that protect children from abuse and the innocent parents that became victims of a system designed to do the opposite.
Podcast Name: Dr. Death
Host (s): Laura Beil
What You'll Hear: Dr. Death tells the real-life tale of a neurosurgeon who purposely injured and killed some of his patients. It will make you think twice about going under the knife.
Podcast Name: Dying For Sex
Host (s): Nikki Boyer
What You'll Hear: A series about Nikki's best friend, Molly, who gets diagnosed with stage IV breast cancer, prompting her to leave her marriage and explore new sexual fetishes and adventures amid her ongoing illness.
Podcast Name: Fresh Air
Host (s): Terry Gross
What You'll Hear: In-depth interviews with acclaimed artists, authors, and journalists. Hear intimate conversations from luminaires like "Weird Al" Yankovic and Seth Meyers.
Podcast Name: Mark Levin Podcast
Host (s): Mark Levin
What You'll Hear: Insightful, humorous, and conservative takes on daily news and world-changing events.
Podcast Name: My Favorite Murder
Host (s): Karen Kilgariff and Georgia Hardstark.
What You'll Hear: Hilarious audience hometown stories on murder, ghosts, and lore.
Podcast Name: Office Ladies
Host (s): Jenna Fischer and Angela Kinsey
What You'll Hear: An episode-by-episode breakdown of the hit series, The Office.
Podcast Name: Pardon My Take
Host (s): Dan Katz and PFT Commenter
What You'll Hear: Sports talk, interviews, NFL recaps, and hilarious jokes.
Podcast Name: Red Collar
Host (s): Catherine Townsend
What You'll Hear: True crime stories centering on wealthy criminals who commit murder and other heinous crimes.
Podcast Name: Something Was Wrong
Host (s): Tiffany Reese
What You'll Hear: Hear vulnerable stories from victims of abuse and explore their trauma, recovery, and bravery.
Podcast Name: Stuff You Should Know
Host (s): Josh Clark and Charles "Chuck" W. Bryant
What You'll Hear: A podcast where you can learn about everything from tarot cards, vampires, and perfume, to the eruption of Mount Vesuvius.
Podcast Name: The Bill Simmons Podcast
Host (s): Bill Simmons
What You'll Hear: Sports stories, celebrity interviews, breakdowns of notable UFC fights, and more.
Podcast Name: The Daily
Host (s): Michael Barbaro and Sabrina Tavernise
What You'll Hear: Hard-hitting daily news stories told by trusted journalists.
Podcast Name: The Dan Bongino Show
Host (s): Dan Bongino
What You'll Hear: Scandals and political events shared from the perspective of a former Secret Service Agent, former NYPD officer, and New York Times bestselling author.
Podcast Name: The Joe Rogan Experience
Host (s): Joe Rogan
What You'll Hear: Conversations and stories shared by guests from a variety of backgrounds. Think comedians, other podcast hosts, and even scientists like Neil deGrasse Tyson. Exclusively available on Spotify.
Podcast Name: The Mismatch
Host (s): Kevin O'Connor and Chris Vernon
What You'll Hear: All of the news, updates, and transactions happening in the NBA.
Podcast Name: The Oath with Chuck Rosenburg
Host (s): Chuck Rosenburg
What You'll Hear: One-on-one conversations with current and former leaders in a government office.
Podcast Name: Up First
Host (s): Leila Fadel, Steve Inskeep, Rachel Martin, and A Martinez
What You'll Hear: Balanced news coverage of key news stories and in-depth conversations.
Podcast Name: Wait Wait… Don't Tell Me!
Host (s): Emma Choi and Peter Sagal
What You'll Hear: Stories from comedians, actors, directors, authors, and more. Hear from guests like Brian Cox and George Saunders.
The Biggest Podcasts in Conclusion
Overall, podcasts are a fantastic way to stay sane and in tune with the world. They are also perfect for checking in with topics you're passionate about even if you don't have time for a full-on veg-out session on your couch. If you don't have much on your calendar, though, that's great too. You deserve it after the year that 2020 was. Sit back and relax on our rooftop pool, and enjoy an episode of "The Mismatch".