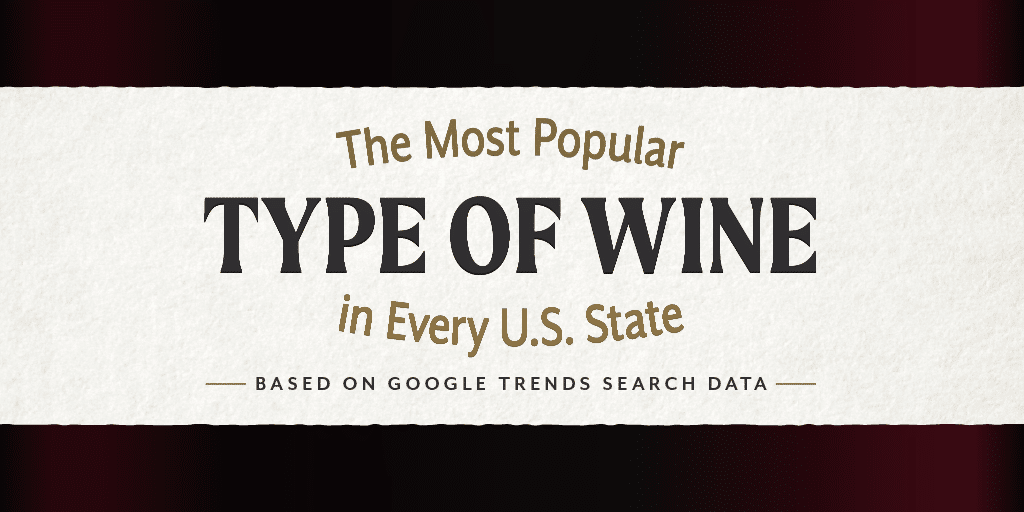 Red, white, sparkling, fortified, or served as a dessert, people love wine. Some people sample tipples from across the spectrum of wines, while others turn to their time-honored favorite for each glass. But have you ever wondered what is the most popular wine in America overall? What bigger patterns emerge across the country, by state, or in each region of the United States?
Alcoholic beverages go in and out of fashion just like anything else. With fall's commencement, a mulled wine mixed with aromatic spices offers warm refreshment as evenings cool down. People put on their wools and jackets and take to the town for a stroll. And at The Waycroft, you're only a stone's throw from some of the DC-Maryland-Virginia area's best wine bars, as well as the many vineyards and tasting rooms across Northern Virginia and the Shenandoah Valley.
Methodology
In keeping with the seasonal spirit, we analyzed search interest in popular types of red and white wine across the country.
We used data from Google Trends to uncover fascinating, contradictory, and curious trends about wine consumption and interest in America. For the sake of science and for the love of wine, we've listed the highlights of our study below.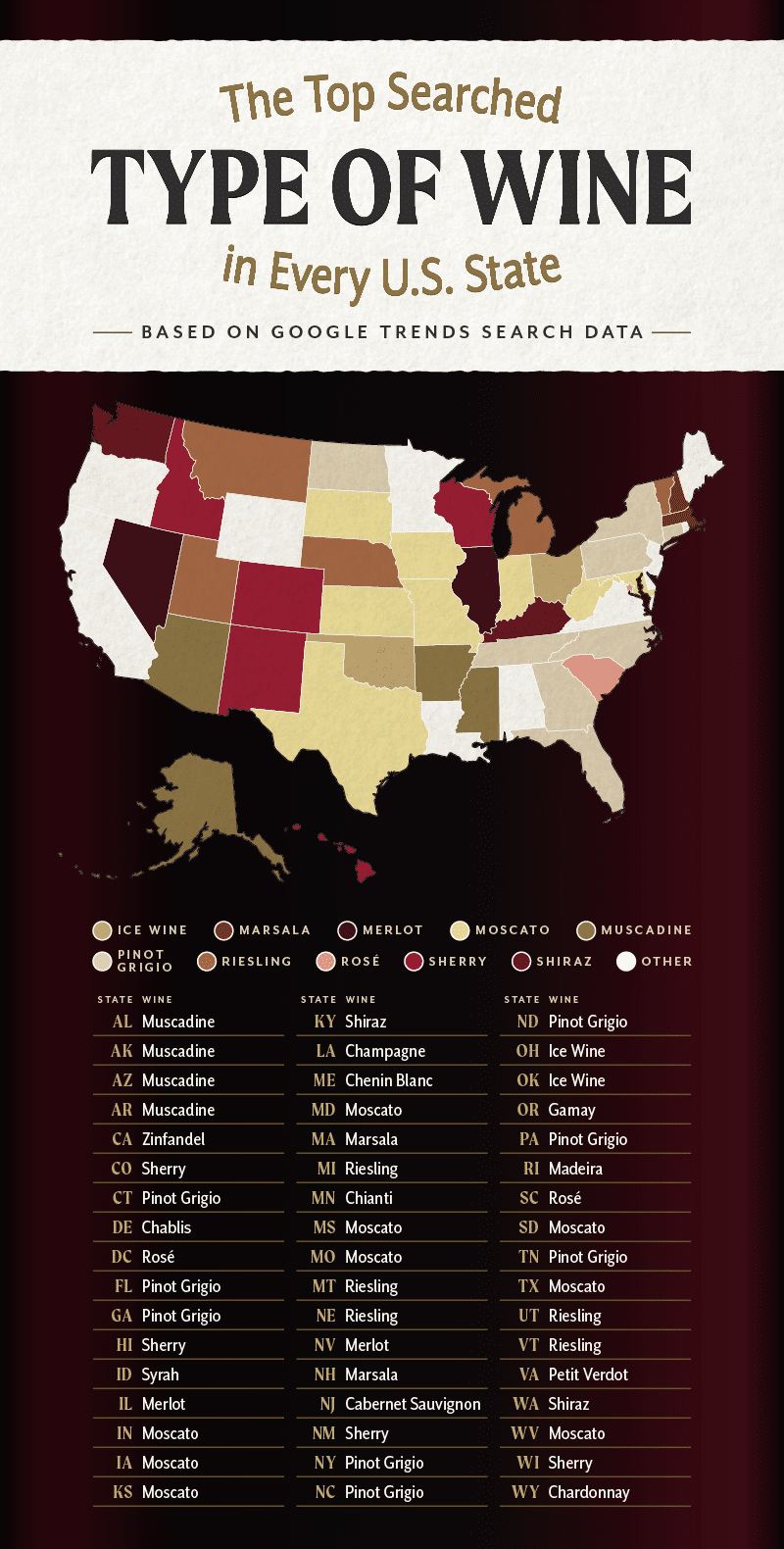 Moscato, Pinot Grigio, and Riesling make up the three most-searched wines in America, with 22 states to their name in total. And despite the noble reputation of red wines, this leaderboard comes as no surprise—white and sweeter wines such as Pinot Grigio and Riesling are versatile and delicious. They pair well with serious dinners and equally serve their purpose as sweet, fruity dessert accompaniments.
Many common wines take the lead across the country, such as Champagne in Louisiana and Pinot Grigio everywhere from New York to North Dakota, though some lesser-known types emerge in the data as well. Petit Verdot (French for "small green"), for example, is the most-searched wine in Virginia. And in Rhode Island, Madeira.
While Virginia may be commonly referred to as the state for lovers, it's also a great place to explore wineries, tasting rooms, and scenic tours across the state. Chrysalis Vineyards, for example, sits just under an hour outside of Arlington and is home to the native Virginia grape, the Norton.
For residents of The Waycroft looking for something a little closer by, Screwtop Wine Bar is a short walk away and serves a variety of wines on their menu.
The Most Popular Wine by Region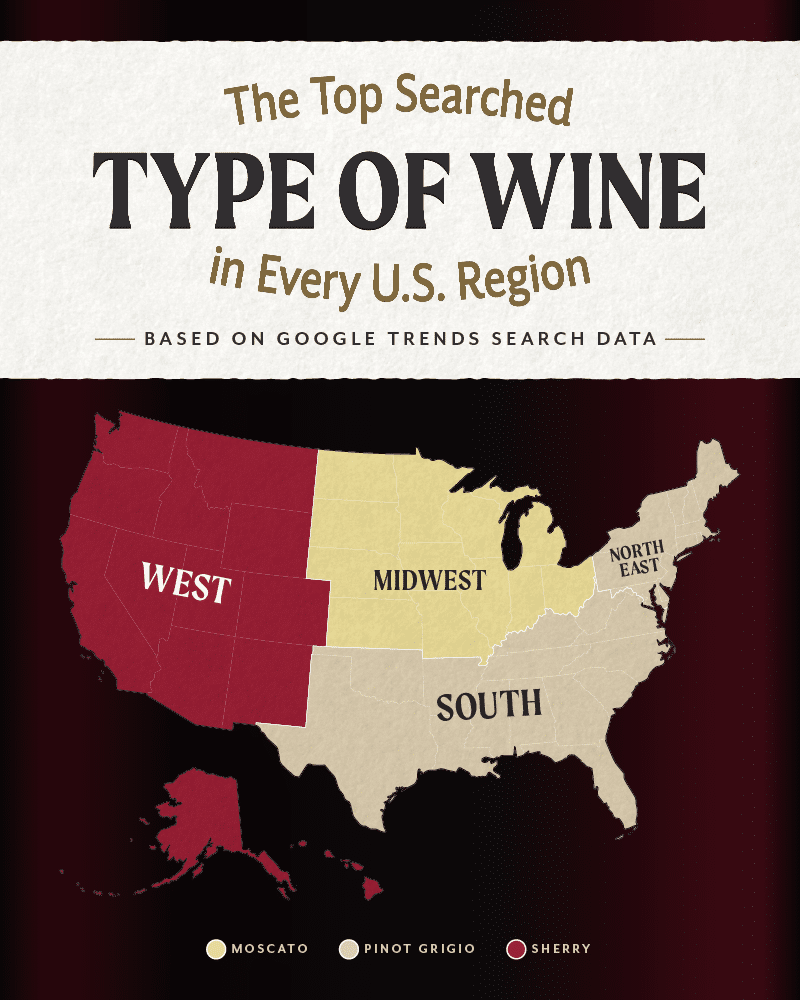 The most popular wine in the US can be found at the state level, but we wanted to know if there were regional preferences. Regions across the United States, seemingly as variable as their climates, found some reunion in preferred types of wine. Sweeter wines take center stage, with Moscato and Pinot Grigio again appearing as the dominating favorites in the Midwest, Northeast, and South.
And out West? Sherry, the fruity and nutlike sweet wine named after the province of Jerez in Andalusia, Spain. This comes as a bit of a contradiction for a region home to celebrity culture and Silicon Valley, seeing that Sherry tends to have the reputation of being out of style, dry, and better for cooking. It's worth noting that the overwhelming majority of U.S. wines (~81%) come from grapes grown in California.
What this widespread interest in the sweeter and more delightful flavors in America says about personal preferences, personalities, or even politics, must for the time being remain as speculation.
The Most Popular Wine Overall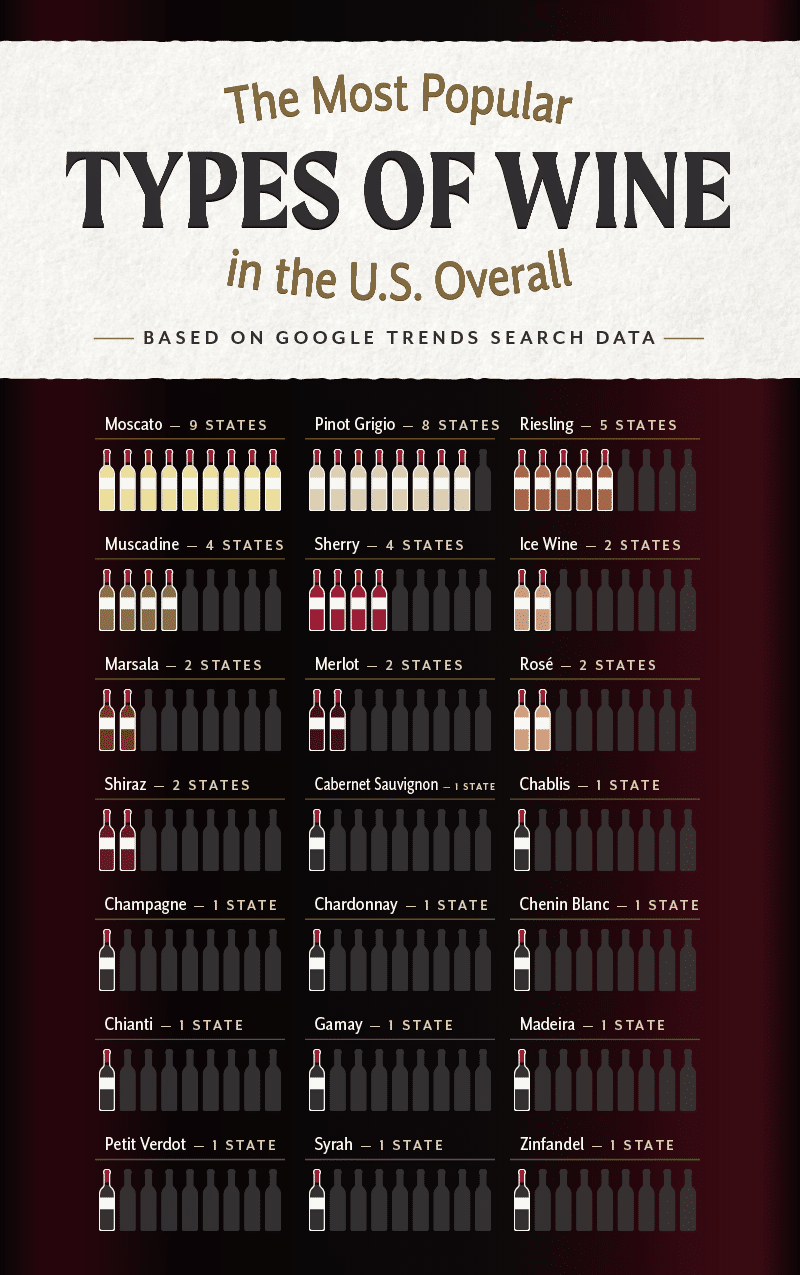 Overall, the most popular wine in America mirrors the most popular types by state. Moscato, Pinot Grigio, and Riesling again sit upon their thrones, filling up glasses across the country and adjusting their crowns. These wines represent a diversity of interests and applications of the world's abundant grape varieties. Sherry and Pinot Grigio, for example, also make excellent cooking wines.
Just outside of the top five, we see unique and perhaps unfamiliar names, such as Marsala, Shiraz, and Ice Wine (German Eiswein, referring to a wine made with grapes left to freeze on the vine all winter). Each of these wines is the top-searched in two states each. Surprisingly, the fairly reputable red wines Merlot and Cabernet Sauvignon fare poorly, with only three states to their name combined.
Further down the list, we find classical wines such as Chianti, Chardonnay, and Champagne. Champagne in a less favored position isn't so shocking, seeing its primary use revolves around special occasions, celebrations, and holidays.
Final Thoughts
Using search data from Google Trends, we gained a deeper insight into the sometimes idiosyncratic interests in wine across America. Traditional white and some red wines hold strong across the board, yet often fall behind the sweeter varieties like Riesling and Moscato.
Seeing that Google Trends identifies, well, trends in what people are searching for online and where interests lie, we can assume some of this data reflects the time of year. Autumn is a season of bonfires and changing leaves as much as it is of spiced desserts, pumpkin pies, fruit cobblers, and of course wines.
Whether you're in one of America's major cities or a more rural town, exploring the culture and history of wine is a great way to learn more about an area. Home to over 300 wineries, Virginia offers a great place to start! Here at The Waycroft, you're only a short drive or walk away from wine-related attractions. Check out our neighborhood page to learn more about life in Ballston here in Arlington, VA. If you're already in the area and are looking for a new apartment, schedule a tour of The Waycroft today.